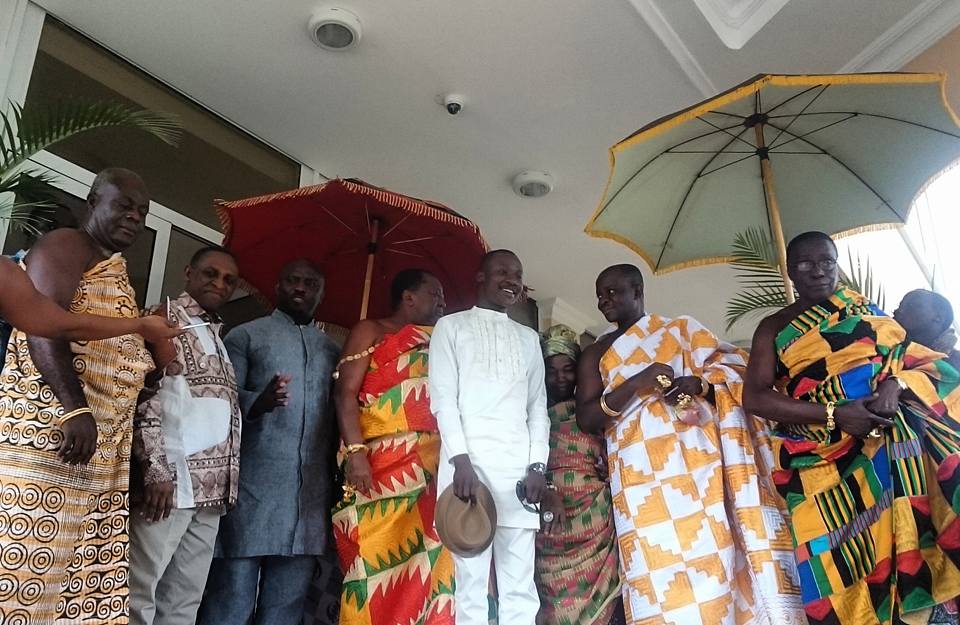 SPEECH BY: DAVID ASIAMAH, FOUNDER AND CEO, AGROMINDSET
Oheneba Adusei Poku, The Akyampemhene, Distinguished Businessmen and women of Kumasi, Government Officials, ladies and gentlemen of the press, organizers, and invited guests.
It is an honour and privilege to have the opportunity to speak to the theme "Improving the Trading Industry in Ghana (Kumasi)".
In February, 2014, the Africa Report Correspondent for Ghana, Billie Adwoa McTernan, reported that "If any more proof were needed of Kumasi's importance as a regional trading centre, the arrival in Ghana of 15 Malian traders on camels in February made the point. The police stopped the traders at Mampong, but they were en route to Kumasi, where they hoped to sell herbal medicine"
Kumasi's role as a commercial centre dates back to the zenith of the trans-Saharan trade routes. Kumasi by virtue of its geographical location is the centre of a major transportation, and facilitates movement to any destination in Ghana within a day. Much of Ghana's primary road network converges on Kumasi and as such acts as an important transport interchange point within the country. In addition, it has taken on the role of a bulk breaking centre for several commodities in transit to either the northern or southern parts of the country. Consequently, Kumasi experiences a substantial volume of passenger and freight traffic; a situation that bode well for the City's commercial and trading industry.
Presently, Kumasi is surrounded by new highways, there are plans to rehabilitate the railway line to the coast, construction of an inland port although halted, and there are daily flights to Accra, Ghana's capital. Government in its quest to diversify the economy and invest in new growth areas is making a paradigm shift in the structure of the economy by backing new projects to produce sugar, rice and vegetable oil across the country.
Several new projects are being undertaken throughout the Savannah Ecological Zone backed by the Savannah Accelerated Development Authority-SADA via the USAID Financial Ghanaian Agriculture Project-FinGAP, for which my co-guest speaker Boris Baidoo of Boris B Farms is a beneficiary.
At the crossroads of the country, Kumasi continues to play a key role in the wave of expansion now and the future. Kumasi is capital to a region which is rich in mineral resources. Farms in the region offer cash crops, animals and poultry on large scale in addition to high quality cocoa and oil palm which have been the lifeblood of Ghana's export economy.
Additionally, Kumasi serves as the hub for trading in crafts and weaved clothing notably Kente from the outskirt of the city, entrenching the city as the commercial and cultural hub of the country.
However, Kumasi faces several challenges which threaten its key role as the commercial hub of Ghana. These challenges include; lack of relevant infrastructure to cater for expansion, limited job opportunities for graduates of technical colleges and universities and inability of prospective traders to secure long term funding due to a number of factors. The Eastern Corridor which stretches from Accra through the Volta Region to the Northern Region is under construction whereas plans are afoot to construct the Western Corridor spanning the Western, Brong Ahafo Regions to the Northern Region and beyond. These new road infrastructures will divert traffic from Kumasi and reduce its market share of trading in the country.
As we all know, the city does not lack entrepreneurs who have been instrumental in several sectors of the economy, notably; the set-up of the KuapaKokoo which is the largest private indigenous cocoa commodity trading entity owned by farmers whose proceeds built a considerable part of the inner city. Kumasi based farmers continue to be recognized as National Best Farmers for their diligence whereas artisans at Suame Magazine continue to churn out innovation although challenged by rapidly changing technological landscape.
It is worthy to note, that the Kumasi Metropolitan Authority is leading efforts at transforming the Central market and the Kejetia lorry terminal into modern places of commerce and transport services to address some of the challenges highlighted. In addition, the Garden City and Kumasi Malls under construction provide alternative places of doing business for traders in finished goods and other products. As an agricultural entrepreneur, I know that we need substantive and meaningful improvement in the areas of food processing, commodity trading and job creation.
This can be done through the set-up of an investment fund to assist budding entrepreneurs with needed long term capital at lower rates to process commodities, establishment of a regional commodities exchange to facilitate trade, completion of the Boankra Inland Port, and rehabilitation of railway lines to the coast to facilitate exports. Additionally, Kumasi's competitive advantage can be harnessed through the use and efficient management of already existing large scale storage facilities to store up commodities for local use and processing. This will mean that large volumes of commodities like rice, soya, and maize can be stored to exploit the opportunities being created by the USAID-FinGAP initiative and others in the SADA Zone for increased production of such commodities to reduce huge import deficits.
These productive investments can reverse the trend of lower growth in the economy to strategically enhance the city's position as the commercial hub of the country.
In the developed world, mobility of capital and people has created intense competition among cities. This is not exactly our case. Our story is exciting because we get to write a new page or even a new chapter every day. We are far from perfect, and that's fine. We are young and we are merely going through the aches and pains of our pubescent growth.
To prosper socially and economically, we must create a place where we nurture entrepreneurship and entrepreneurs—and the businesses they can & will grow. When entrepreneurs have the right space, the opportunities are endless. Take a look at the late Steve Jobs, Richard Branson, Mark Zukerberg, and Elon Musk. Or even further in the past, Dale Carnegie, John D Rockefeller, Thomas Edison or Henry Ford. These men had vision and an uncanny ability to continue forward. My generation will not produce the next batch of Steve Jobs, but the first batch of David Asiamahs, Yaw Adu-Gyamfis and the Prince Boadu's.
This is the only way we will ever create wealth and enough jobs. Great cities are associated with a vision that powers progress. My vision for Kumasi is simple – and likely a bit controversial: Let's become the first smart city in Ghana.  Let's create win wins and understand that our success as a city is also associated with the success of our brothers and sisters in the surrounding rural districts. At the epicentre of this is to build the farm-to-table ecosystem predicated on said win-wins. When we do this, we will win and rural communities will have incomes to support the goods and services needed for a higher quality of life; and more eager to develop their communities.
Elite cohorts of cities are becoming the world's most influential economic powerhouses. The economic powerhouses are also a centre of entrepreneurship, innovation, jobs, culture and education.
Thick labor markets are fostered where talent feels comfortable, find other creative people in many fields, and have the opportunity to make a contribution – places that welcome and value people of every kind. In short, tolerance attracts talent; and talent attracts technology-driven growth. I know that Kumasi has all the right assets and opportunity to become Ghana's and West Africa's tremendous engines of innovation. Doing this is not a matter of if or can, but when.
THANK YOU AND MAY GOD BLESS US ALL.