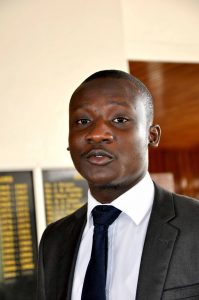 The World Justice Forum scheduled for The Hague in Netherlands next month will host Ghanaian Entrepreneur and founder of award-winning Agric firm Agro Mindset, David Asare Asiamah as one of the key speakers.
David Asiamah has been invited by the World Justice Project as a recognised global leader in entrepreneurship to speak at the forum on the theme; "Enabling Investment and Innovation; The Critical Role of the Rule of Law". He is expected to share insights from this personal enterprise in launching and running his organisation, Agro Mindset.
Mr. Asiamah thus joins a tall list of high profile persons who have addressed the annual forum.
These include: President of Afghanistan Ashraf Ghani; Chinese artist and architect Ai Weiwei; UN Special Representative for the Prevention of Genocide Adama Dieng of Senegal; Harvard economics professor Andrei Shleifer; and at least three Justices of the Supreme Court of the United States.
"The Rule of Law and justice sector is crucial for sustainable communities, relations between communities, and for individuals to realise their full capabilities. People must be able to count on norms and procedures to make relationships stable, workable, repairable, predictable, and equitable," Mr Asiamah noted as he confirmed his participation in the forum from July 10-13.
"As such, the rule of law is an anchor, ensuring predictability, and an engine, advancing conflicts towards resolutions. A just legal system will encourage entrepreneurs to do more, create more business and take better risks," he added.
The Agro Mindset founder has been on a campaign to get the youth, private sector and peasant small-scale growers to rethink the role they play in their Agric sector. He strongly believes he can make a difference in the lives of fellow Ghanaians and the broader African society by using his farms to teach and showcase, not only the potential but the realities of success in agriculture.
His firm, Agro Mindset is a mission-driven firm specialising in agribusiness ventures. Their focus is to run highly profitable farm-based enterprises with long-term growth potential and showcase this know-how to young aspiring farmers in an industry relevant manner.
As a farmer and entrepreneur, David has been recipient of multiple awards including the Forbes Africa 30 under 30 class of 2016, African Achiever Award for agricultural excellence, The Future Awards for Agriculture, Ghana UK Based Awards (GUBA) for corporate sustainability, the Ghana Top 30 Under 30 listing amongst others.
The World Justice Forum is the premier international event for the rule of law. Global and community leaders from an array of sectors and interests come together to share insights, explore strategies, and develop solutions for advancing peace, equity, and opportunity.
The "Enabling Investment and Innovation: The Critical Role of the Rule of Law" panel will explore how the rule of law is foundational to building communities of economic opportunity.
Speakers during this session will discuss the critical role of the rule of law in unleashing the power of investment, innovation, and entrepreneurship in building dynamic economies. The audience will hear from a variety of business leaders, including from executives of major corporations, impact investors seeking to harness market forces to generate social benefits, and young entrepreneurs hoping to launch the next big idea.
Speakers will address how rule of law challenges affected their business, while also highlighting how strong adherence to the rule of law helps private sector leaders get their business done.