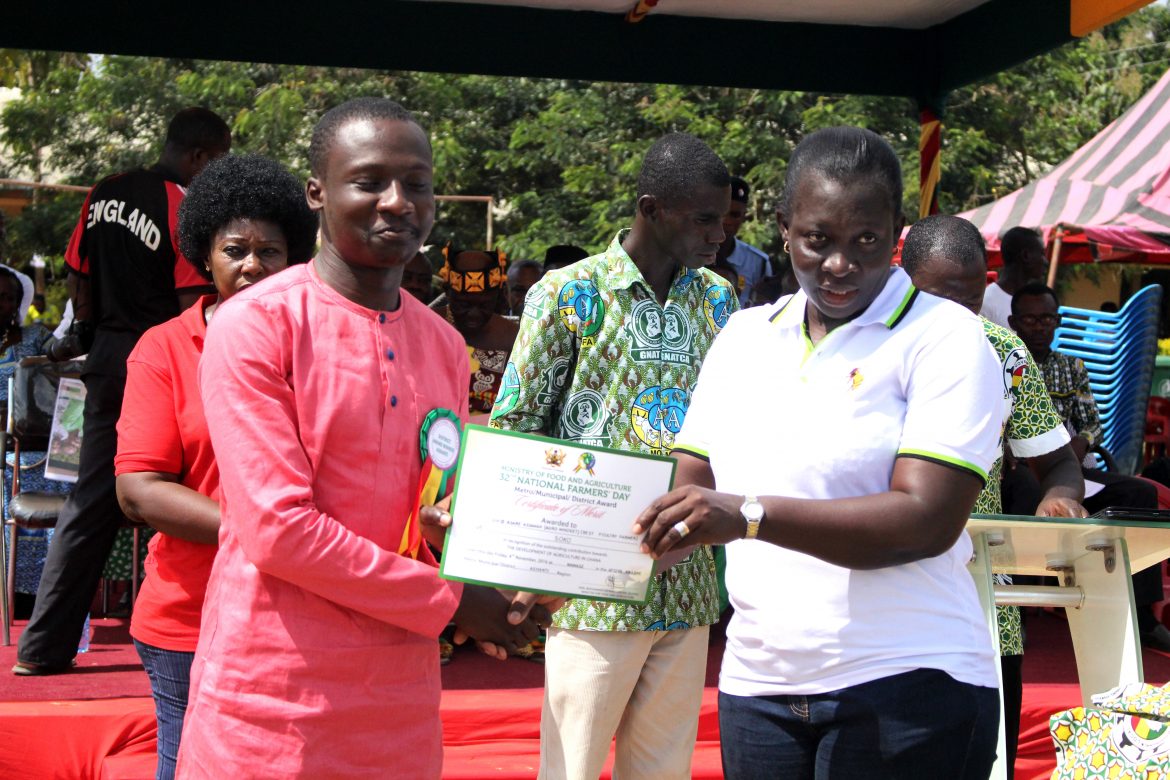 Two years after UK based University of Reading trained masters' degree holder David Asare Asiamah returned to Ghana to start Agro Mindset Farms, the farm has been adjudged 2016 Best Poultry Farm in the Afigya Kwabre District of the Ashanti Region.
28 year old Asiamah was awarded at the district celebration of the 32nd National Farmers' Day under the theme: 'Agriculture: A Business Response to Economic Growth.' The award recognizes Mr. Asiamah for his "outstanding contribution towards the development of agriculture in Ghana." "I knew I will win this one day. But not at 28. I'm shocked myself," he told Joy news after picking up the award. Agro Mindset is an agricultural venture consisting of a farms division (Agro Mindset Farms), an agric entrepreneurship campaigning non-governmental organisation, Agro Mindset Organisation, a logistics company and several other agric entities.
The farm has produced more than 11,000 birds and some 4 million eggs in the last two years. Agro Mindset Farms applies state of the art technology and environmentally sound agric practices to produce high quality eggs for sale to residents in the Ashanti Region and its environs.   Globally, the agricultural revolution is being digitized and monetized. Today's youth remain the hope to advance this. Mr. Asiamah started Agro Mindset in 2011 whilst still pursuing a first degree in Agriculture at the Kwame Nkrumah University of Science and Technology (KNUST). He subsequently completed a postgraduate degree in the UK, and returned to Ghana in 2014 to start the farms division which has won the entity it's latest award.
"Today we celebrate, but tomorrow we will get to work, because we want another celebration soon. We are all work in progress. To those having hard times, know that it's only temporary," he added. This award is the first national one for Agro Mindset after winning several international ones. David Asiamah was recently listed in the FORBES AFRICA 30 under 30 Class of 2016. Agro Mindset also picked up the Sustainable Business Award at the Ghana UK Based Achievement (GUBA) awards in 2013. He also won the 2015 Future Awards Africa for Agriculture in Nigeria and the African Achievers Awards in South Africa.
"Our mission is to be the leader of robust agribusiness models that produce safe, quality, affordable and consistent foodstuffs to our customers in a financially, socially and environmentally sustainable manner. Our vision is to create the agro mindset among the next generation of farmers that will grow Africa's food economy, develop the agribusiness ecosystem and ultimately transform the continent," Mr. Asiamah told Joy news when asked about what the future plans for the entity are.
Agro Mindset Farms plans to broaden its reach beyond Ghana in the near future by rolling out an online educator programme next year. The organisation anticipates being able to reach half a million African youth by 2021 via this online agro-education platform.  The farm is data driven. Unlike many traditional farming ventures, Agro Mindset believes in the value of data. "We proactively maintain up-to-date data on our farming operations to inform growth plans and decision making. This sets us apart from the norm as by tracking the data trends and being attentive to global events, we are able to take strategic decisions that spur us into comparative advantage."
Climate change is global phenomenon that has far-reaching impacts now and into the future. In agriculture, the weather is one of the critical determinants of success. In view of this, AgroMindset has adopted sustainable farming techniques that minimize the impact of farming on natural ecosystems and to a good extent enhances the ecosystem. We believe that through methods such as Conservation Agriculture (CA), we build resilience as an agri-business as we also promote the sustained ability of the ecosystem to provide much needed eco-system services.