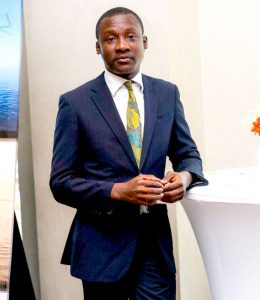 Africa 2017 scheduled for Egypt next month will host Ghanaian Entrepreneur and founder of award-winning Agric firm Agro Mindset, David Asare Asiamah.
Also in attendance will be H.H Alassane Ouattara, President of Cote d'Ivoire, H.E Pail Kagame Presdient of Republic of Rwanda, H.E Carlos Agostinho do Rosario, Prime Minister, Republic of Mozambique, H.E.Sheif Ismail, Prime Minister of Arab Republic of Eqypt, H.E. Dr. Bandar Hajjar President, IDB Group, Chairman, Board of Executive Directors, Islamic Development Bank, Tony O. Elumelu, Chairman and Founder, Heirs Holdings and Tony Elumelu Foundation and many others.
David Asare Asiamah is founder and CEO of Agro Mindset; an emerging player in the Ghana-based agribusiness space. The focus of the group is to run highly profitable farm-based enterprises with long term growth potential and showcase this know-how to the private sector in an industry relevant manner. He has been selected to join the Africa Forum in Egypt and will partake in the Young Entrepreneurs Day (YED), a landmark event hosted by the Egyptian Government and organised by the Ministry of Investment and International Cooperation and COMESA Regional Investment Agency (RIA), taking place on the 7th December in Sharm el-Sheikh, Egypt.
Africa 2017 YED aims to harness the demographic dividend by offering a unique platform to invest in youth and the young champions of tomorrow. With an expected participation of 250 hand-picked delegates, Africa 2017 YED will feature the rising entrepreneurial stars of the continent, welcome the leading private investment firms and visionary policy-makers, and invite a roster of thought leaders currently changing the entrepreneurship ecosystem in Africa and the world.
The Africa 2017 Forum is a business-to-business and government-to-business platform, focusing on key strategic sectors. This year's Forum will focus on "Driving Investment for Inclusive Growth", providing a platform to increase private sector cooperation in africa and catalyse investment into sectors of strategic interest to our continent.
The 2017 edition builds on the success of the inaugural Africa 2016, where six African heads of state and more than 1,000 delegates from 45 countries participated. Egypt has been stepping-up its support nd working to enhance the economic and cultural integration of the continent in view of achieving shared prosperity.
As one of the selected founders and entrepreneurs, David will have first access to a series of Entrepreneurship and Fundraising workshops, network with fellow serial entrepreneurs as well as pitch his company Agro Mindset to leading investment firms and multinational corporations. David has been recipient of multiple awards including the Forbes Africa 30 under 30 class of 2016, African Achiever Award for agricultural excellence, The Future Awards for Agriculture, Ghana UK Based Awards (GUBA) for corporate sustainability, the Ghana Top 30 Under 30 listing amongst others.